The Campbell Academy Podcast | Nothing but the tooth
Welcome to The Campbell Academy Podcast, the show that inhabits motivational material and conversations with inspirational people, who can help us navigate our lives and the challenges we face. In these episodes, we will hear stories from leading dentistry experts to elite athletes or even people who work with us now, who offer a glimpse into their journey of overcoming difficulties and becoming what success means to them. So welcome along, we're excited to have you here.
Episodes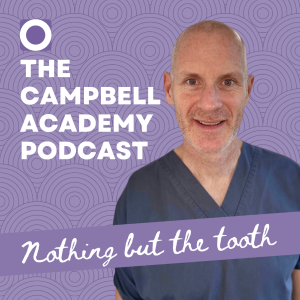 Friday Jul 29, 2022
Friday Jul 29, 2022
Rony Jung is one of the most famous implant clinicians in the world. He is the Chairman of the Department of Reconstructive Dentistry at the University of Zurich, which is now graded as about the eighth best dental school in the world but is heading way into the top five and beyond under Rony's leadership. He is an implant surgeon, a restorative clinician, a periodontist by stealth, a disruptive researcher, and an amazing teacher - but this wasn't always Rony's initial plan.   In this chat with Colin, Rony talks through his various occupations whilst always remaining positive and enthusiastic about what each door opens. As well as how he uses storytelling in his teaching, how his family is his biggest achievement and how staying curious is the secret key to life.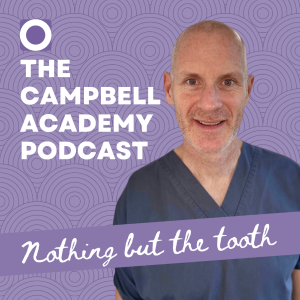 Monday Jun 27, 2022
Monday Jun 27, 2022
In this episode, Colin enters into conversation with his long-time hero, mentor, and friend, John Gibson about his mammoth walk from Land's End to John o'Groats to launch The Canmore Trust in honour of his son, Cameron, who tragically took his own life towards the end of 2019. This will be part 1 of a part 3 series, which will reveal John's potted history of his career and his contribution to dentistry.
The Campbell Academy podcast has taken various iterations over the past few years but now we're settled on what it's for and what we'd like to do and it's really about meeting and speaking to inspirational people about the good things and the bad, about overcoming the tough times and how they've got to be so great.
It's not that we don't have any ideas of who to speak to, it's that we don't have enough hours in the day to speak to the people we'd like to. We also have a question that we ask every podcast guest at the end of each episode.
I really hope you'll join us and contribute and discuss some of the biggest issues in and out of dentistry. We're going to have a lot of fun doing this and hope you'll have a lot of fun listening.